December 2007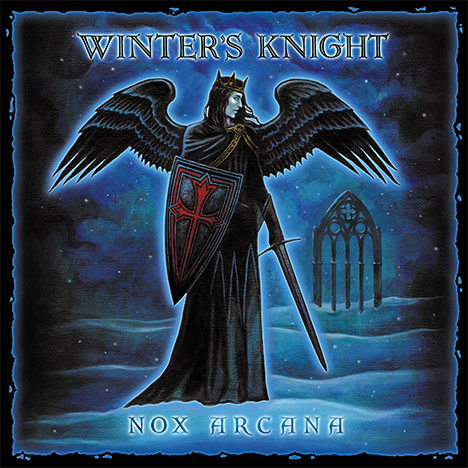 Nox Arcana's Winter's Knight hits the Billboard Holiday Music Charts, for the second year in a row!
Congratulations to: Ron Oliver, David Carlson, Angie Cormier, Jeremie Rueff, Brent Stewart, Amanda Klecker, Lindasy Gibson, Patricia Gonzalez, Alexandra Dimou, and Brittany Proctor for entering the "Ebonshire" contest and winning a Winter's Knight CD. Happy Holidays!
October 2007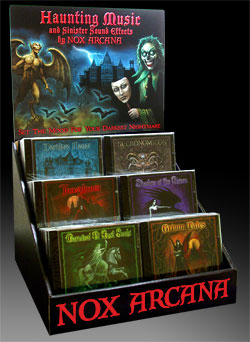 Our favorite season is upon us and we have some nightmarish news for all darklings and creatures of the night.
Nox Arcana CDs are available at Spirit Halloween Superstores now through the end of the spooky season. (Look for the creepy carnival display). Also Hot Topic will be offering Shadow of the Raven CDs. Tell your friends!
Nox Arcana, who never leave their dungeon studio, have begun work on a new album of sinister soundscapes. The next musical nightmare from the masters of the macabre will be titled Grimm Tales , and will be set in an enchanted realm of dark fables and spellbinding lore.
Joseph Vargo reveals "The concept will center around dark fairies, wicked witches, and creatures that lurk in the deepest shadows of childhood nightmares."
Grimm Tales will be the band's ninth album in four years, and promises to deliver Nox Arcana's trademark mixture of haunting melodies, menacing orchestrations, creepy narratives and eerie sound effects. The album is slated for an early 2008 release.
August 2007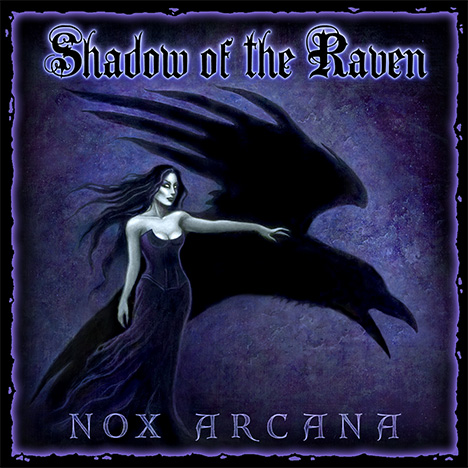 Shadow of the Raven is here!
A new interview with Joseph Vargo is up at the Halloween Database.
July 2007
Shadow of the Raven (preview): We present 4 tracks from Nox Arcana's upcoming album, available later this summer.
June 2007
Nox Arcana on Haunt Space and MP3.com Nox Arcana help boost morale for U.S. troops stationed in Iraq, when they contribute several cases of cds to the troops attending the Ziggurat Games, held on June 9, 2007. This is the first-ever game convention of its kind held in a war zone. Read more...
May 2007
New interview with Joseph Vargo at Parallel Perspectives
March 2007
New reviews are in for Blood of Angels and Blood of the Dragon
February 2007
Congratulations to Sir William Christy, the first to discover the Treasure of the Four Crowns.
Darklore Manor remastered; CDs now in stock. The CD currently being sold from Monolith is the remastered version. As Joseph stated earlier, "We aren't making a big deal out of it or changing the packaging because the cd's are essentially the same. We have too much respect for our fans and don't want to mislead them into buying something they already own. We have the best fans in the world and we don't ever want to let them down."
January 2007
Billboard Magazine emailed with the news that Winter's Knight hit #8 in the Holiday music charts. We were amazed at first, considering we didn't submit anything to Billboard. But they do their own tracking and, well, there you have it! This is so cool because it's all thanks to YOU, the people who purchased CDs or downloaded the album from itunes. We hope it stays up there on the charts for a while, but if not, it's really cool to have been recognized. Thank you, everyone!
On the Horizon...
Nox Arcana, who have been locked away in their dungeon studio since 2003, announce several new projects in the works for 2007. The new year is barely underway and Joseph and William have already finished their first musical undertaking, which involved re-mastering their debut album Darklore Manor. William Piotrowski explains "We didn't make any drastic changes, but since Joseph and I are both perfectionists, we wanted to tweak and sharpen a few of the things that were somewhat buried in the original production. Joseph Vargo reveals, "In the meantime, we've already begun work on the new Nox Arcana cd, Shadow of the Raven, which will be a musical tribute to the gothic works of Edgar Allan Poe. The music will be haunting and darkly romantic with sinister overtones, along the lines of Darklore Manor and Transylvania. After Shadow of the Raven is complete we will be re-mixing and re-mastering our Necronomicon album to bring out more of the original dynamics.
December 2006
A new review for Carnival of Lost Souls is up at Big Ole Face Full of Monster
November 2006
Cover art and a sample medley has been uploaded for Blood of the Dragon. The release date has been set for 11.27.06
Three Nox Arcana songs, "Temple of the Black Pharaoh," "Alhazered's Vision" and "Snake Charmer," have been featured in Belly Dance for Beautiful Freaks, an instructional video by Gothic belly dance performer, Tempest, for sensual dance and exercise. More...
Nox Arcana's music has also been licensed by paranormal expert Mike Roberge and is featured in his four-part series of educational DVDs from the Demonology Resource Center. The instructional DVDs cover ghost hunting, demonology, spirit classification, and mystical and occult practices. More...
Nox Arcana's Carnival of Lost Souls has been rated a perfect 10 out of 10 by Austria's Arising Realm Magazine and was the Number One recommendation by music editor Pascal Zuger.
October 2006
Happy Halloween!
Nox Arcana music at Busch Gardens Howl-O-Scream and Knott's Scary Farm. We have received notice that these major haunts are featuring the music of Nox Arcana throughout the parks and haunted houses. It was news to us. Cool, huh?
10-25-06 An excellent review just in from Legends Magazine 10-13-06
We arrived home from the cd release party to find this excellent review of Carnival of Lost Souls from Fangoria in our inbox.
Blood of Angels CD Release Party
Friday, October 13, 2006
The Chamber, 11814 Detroit Rd., Lakewood, OH 44107
Doors open at 10pm. Ages 18 and over.
Join Nox Arcana and vampire author Michelle Belanger for an evening of enchanting music and tales of forbidden passion. There will be great giveaways, and CDs for sale.
September 2006
Nox Arcana have finished music for the album Blood of Angels with vocalist Michelle Belanger. A release date has been set for Friday, October 13th. Also looming on the horizon is Blood of the Dragon a new sword and sorcery epic from Nox Arcana. The CD is due for release this Winter.
New Interviews with Joseph Vargo at Flames Rising and Music Street Journal
August 20, 2006
Celebrating Lovecraft's birthday today with The Strange Sound of Cthulhu: Music Inspired by the Writings of H.P. Lovecraft by Gary Hill. Read more...
July 2006
New Interview with Joseph at The Perch.
June 30, 2006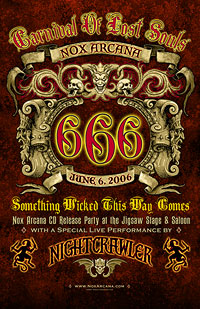 No Rest For The Wicked
Less than a month after the release of Carnival of Lost Souls, Nox Arcana is already well into the recording stages of their next cd, Blood of the Dragon. As Joseph Vargo states, "Its an epic sword and sorcery concept centering around an ancient quest."
In July, Michelle Belanger will be working with Joseph and William at Phantom Zone studios once again, this time to record songs for her forthcoming release Blood of Angels.
In October, Nox Arcana will begin work on a new Gothic theme.
June 2006
666 Release Party photos have been posted
We had a blast at the cd release party for Carnival of Lost Souls! Thank you to everyone for coming by. Cds are available. Explore the attractions.
March-May 2006
A release date has been set for Carnival of Lost Souls - June 6, 2006. Listen to Music Samples and join us for the CD Release party!
February 2006
New Babydoll Tees available!
New Reviews and Fan Mail and Interviews with Joseph and William have been posted! Thank you for your support and praise!
January 2006
Ring in the New Year with Nosferatu and Nox Arcana!
The 1922 silent film Nosferatu gets a soundtrack! The audio-enhanced version of Nosferatu will air on New Years' Eve, hosted by Dr. Gangrene, on the WB58 Creature Feature in Nashville TN. This classic vampire film will be accompanied by More details on the forum...
Check out the cool new posters by Joseph Vargo available at Spencers... Fangoria gives kudos to Transylvania.