December 2009
Winter's Eve CD with Gothic Greeting Cards
Save when you combine CDs with matching greeting cards.
November 2009
Metal Sound from Serbia interviews Joseph Vargo for Nox Arcana.
Nox Arcana reaches ONE MILLION plays on My Space. The band also has over 1000 fan-made videos on Youtube. These impressive numbers are virtually unheard of for an independent artist that doesn't tour and doesn't receive mainstream airplay.
"I want to thank everyone for their enthusiasm and support. Our music touches people in a powerful and emotional way, and our fans express their feelings in very creative ways. You are the greatest." — Joseph Vargo

noxarcana (main page) 547,052
carnivaloflostsouls 131,663
bloodofdragon 69,214
noxarcanaraven 63,568
michellebelanger 67,761
grimmtales 100,728
phantomsofthehighseas 20,729
Grand Total: 1,000,715 plays on 11/3/09


October 2009
Happy Halloween!
Nox Arcana music is featured exclusively on America Haunts II, III, IV, a TV show that tours haunted house across the country, airing Halloween weekend on the Travel Channel. Eastern Standard Times are posted here . Check your local listings.

Check out a killer interview with Jeff "Buzz" Hartz on Midnight Podcast (episode 156, Oct 9, 2009) as he talks about Zombie Influx and zombie movies.
September 2009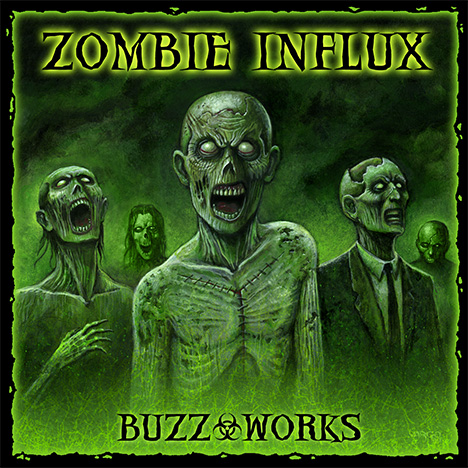 Zombies!
Joseph Vargo and William Piotrowski help to create Zombie Influx! In between Nox Arcana CD's the band collaborated with Buzz-Works founder Jeff Hartz to produce a different kind of nightmare soundscape based around a zombie invasion. Joseph Vargo wrote several tracks for the project which he co-produced with Hartz. The CD consists of eerie ambient tracks, emergency radio bulletins, and darkwave
August 2009
A mere two months since the release of Blackthorn Asylum a new Nox Arcana CD is already well underway. Joseph Vargo reveals that the next album will once again celebrate the winter holiday season, but from a different perspective. "The story revolves around an ancient spirit that watches over the Earth during the cold winter months. The music is a mixture of medieval and classical styles, combining minstrel songs with solemn piano compositions, bell melodies, Gregorian choirs and haunting orchestrations. My plan has always been to create a trilogy of winter-themed albums, so somewhere down the road there will eventually be one more to complete the trio." The new CD entitled Winter's Eve is on schedule for a late November release.
Fantastik Edebiyat a fantasy magazine in Turkey interviews Joseph Vargo about his artwork, writing and music.
Check out Lili's Lair for an interview with Joseph Vargo about Nox Arcana's Blackthorn Asylum CD, and with Christine Filipak about Madame Endora's Fortune Cards. Features will be running all month long.
July 2009
The reviews are in... Read what Fangoria has to say about Blackthorn Asylum.
Jeff Endemann has released his first solo album, entitled So Far. Jeff has worked as a guest vocalist and guitarist on three Nox Arcana albums, singing "Coventry Carol" (Winter's Knight), "Treasure of the Four Crowns" (Blood of the Dragon), and playing electric guitar on the rock version of "Spellbound" (Carnival of Lost Souls). Jeff's CD, which is a mixture of acoustic guitar ballads and ambient, mystical instrumentals, is now available through his website and also at Amazon.com.
June 2009
Check out Ideology of Madness for an interview with Joseph about Blackthorn Asylum, puzzles and the Nox Arcana songbook.
May 2009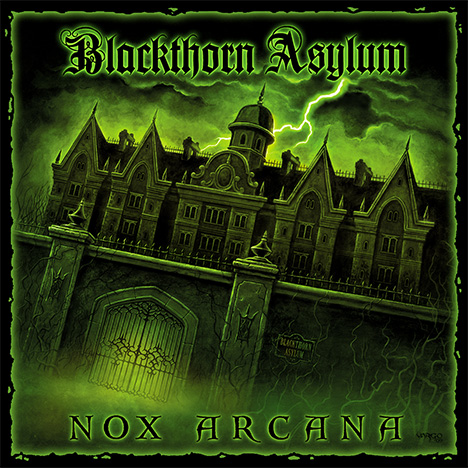 Release date announced for Blackthorn Asylum. The new CD will be available on the Summer Solstice, June 21, 2009.
Nox Arcana has teamed up with RPGnow.com to offer downloads of individual tracks or full albums. More albums will be added over the next few weeks.
April 2009
Songbooks now available
Music From The Shadows (Volume 1) features piano sheet music for 21 songs from the Nox Arcana album collection.
March 2009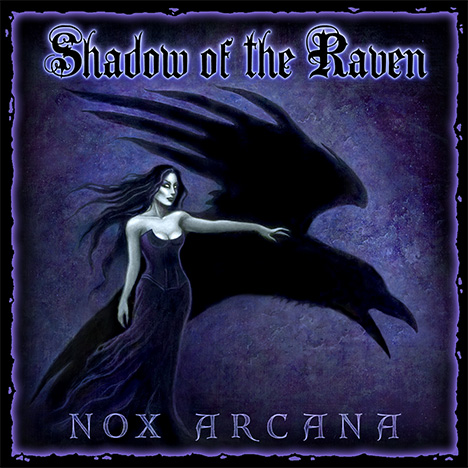 Happy Birthday Mr. Poe
Shadow of the Raven cd is featured in a promotional film in celebration of the 2009 bicentennial of Edgar Allan Poe's birthday, hosted by the Harry Ransom Center, a humanities research library and museum at The University of Texas at Austin. The museum is presenting From Out That Shadow: The Life and Legacy of Edgar Allan Poe, an exhibition about Poe's life and work, from September 8, 2009 through January 3, 2010.
Nox Arcana is featured in Music to Die For by acclaimed gothic culture author, Mick Mercer. The extensive book is a lexicon of gothic bands from all around the world.
February 2009
Joseph talks about The Legend of Darklore Manor in a new interview with Horror 101.
January 2009
Happy New Year!
Check out Halloween Central for a new interview with Joseph.
December 2008
The Legend of Darklore Manor and Other Tales of Terror
Woe befalls all who dwell within Darklore Manor... Enter a dark realm of living gargoyles, sinister shadows, diabolical dolls, haunted havens and undead nightmares risen from the grave. This illustrated anthology contains thirteen tales of terror by Joseph Vargo, Joseph Iorillo and Timothy Bennett, including several stories from Dark Realms Magazine and an original novella based on Nox Arcana's haunting concept album, Darklore Manor. For a limited time, Monolith Graphics is offering a FREE Darklore Manor CD with the purchase of this book.
New interview posted: Joseph talks to Gothic Gateways about Pirates and Plunder.
October 2008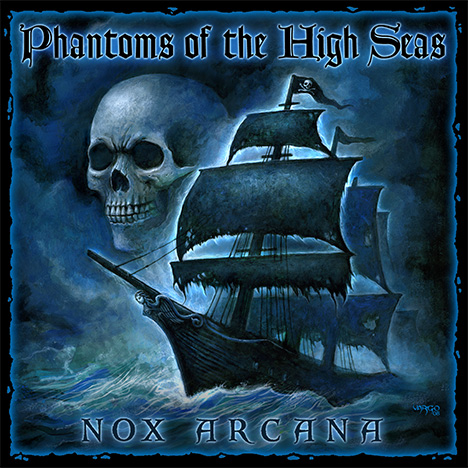 Avast! Congratulations to the black-hearted scoundrels who have discovered the Lost Treasure of the Tempest.
This just in... an interview with Joseph Vargo in a Connecticut newspaper, The Day Nox Arcana's new cd Phantoms of the High Seas is available to order. The release date is October 13th.
If anyone is going to Orlando this year, Universal Studios' Halloween Horror Nights has an attraction called "Scary Tales: Once Upon A Nightmare," based on the realm of fable explored in Nox Arcana's Grimm Tales. Last year Carnival of Lost Souls set the tone for Universal's "Carnival of Carnage." Nox Arcana's music also plays frequently at Busch Gardens, Knott's Scary Farms and Cedar Point theme parks during the Halloween season.
September 2008
We've posted a new My Space page for the Phantoms of the High Seas.
August 2008
The first music samples from Nox Arcana's new album Phantoms of the High Seas have been posted!
July 2008
Nox Arcana announces Phantoms of the High Seas Joseph Vargo and William Piotrowski have been hard at work on the tenth Nox Arcana cd, Phantoms of the High Seas. The new album will center around dark legends of ghost ships that haunt the misty night and promises to be drenched in pirate lore. Joseph Vargo states "The album is a cross between the haunting melodies of Transylvania and Carnival of Lost Souls, and the epic sounds of Blood of the Dragon. There are some really elaborate orchestrations and big chanting choirs, but there are also some very creepy sounding ghostly tracks to raise some shivers. Fans of Pirates of the Caribbean will love this release." The new cd is set to sail later this fall, just in time for the Halloween season.
The new Joseph Vargo website is live! The site contains a huge portfolio of over 200 images, many that you have never seen, including sci-fi and sword & sorcery themes, and even some album covers for other bands.
Nox Arcana haunts the Magic Castle (in spirit)... thanks to a very talented magician by the name of George Anderson, who will be appearing at the world famous Magic Castle from July 28th to August 3rd,performing
May 2008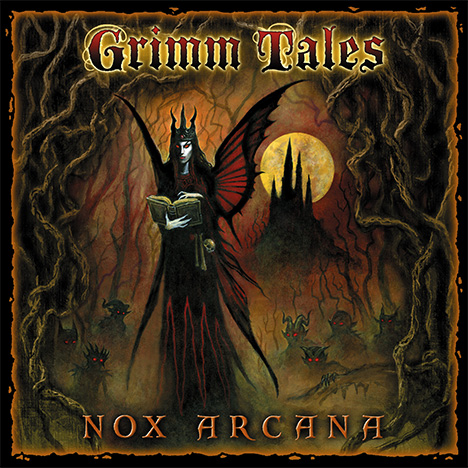 The new Grimm Tales CDs are in!
April 2008
A new interview with Joseph Vargo has been posted at Metafysiko. Joseph has also been recruited as a judge in the 100% Music Songwriting Contest. And, Christine has finally created an animation for Shadow of the Raven. Stay tuned for a new Grimm Tales page soon, with more song samples and a pre-order option. It looks like the new CDs will be shipping to us in early May.
February 2008
Darker Projects presents GOTHIK, an original audio drama inspired by H.P. Lovecraft, Bram Stoker, and featuring music by Nox Arcana. Darker Projects is a theatrical group dedicated to preserving the nostalgia of early radio dramas. The voice actors perform original radio plays inspired by classic literature and pop-culture. Anyone may download the mp3 available free on their site. It's a huge file (85 mb) but well worth the time. Enjoy!
January 2008
HAPPY NEW YEAR!
Get a sneak preview of Grimm Tales... Also, Shadow of the Raven picked as one of the Best Albums of 2007 by Crowgirl's Perch