November 2011
Beyond The Dark Tower
The much-anticipated sequel to Tales From The Dark Tower offers 13 original gothic tales, continuing the saga of the vampire Lord Brom and his quest to solve the ancient mysteries of the accursed keep. The stories shed light on long-buried secrets concerning the origins of the Tower and the Dark Queen, as several new sinister characters emerge from the shadows. This book is dripping with gothic imagery, with tales of ghosts, gargoyles, dark angels and other creatures of the night. Available for download from Apple iBooks, Barnes & Nobel Nook, Amazon Kindle, and Google Books.
October 2011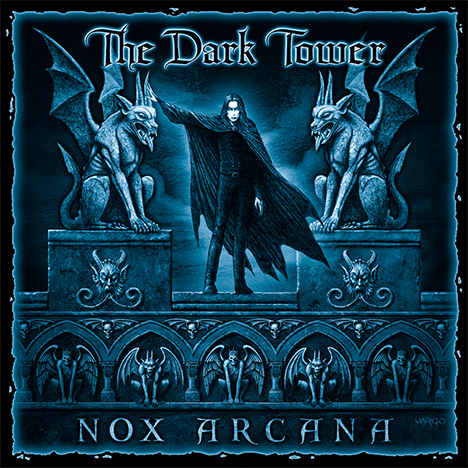 The Dark Tower soundtrack by Nox Arcana
Nox Arcana invites you to explore a realm of gothic mystery, horror and romance with this dark symphony of the night. We're also offering a CD/book combo deal for The Dark Tower Books.
Born of the Night, they lurk in the shadows—gargoyles of living stone, lost souls who wander mist-shrouded cemeteries, and vampires who dwell deep within forbidden crypts. They are the spirits that haunt the blackest wells of midnight—trapped between the realms of the living and the dead, forsaken and cursed to forever dwell beneath the shadow of The Dark Tower.
1991-2011
Monolith Graphics Celebrates 20 Years of Gothic Fantasy
Founded in 1991 by artist Joseph Vargo, Monolith Graphics began as an outlet to sell prints and printwear of Vargo's Gothic fantasy art. With the addition of graphic designer Christine Filipak in 1992, Monolith continued to grow and flourish, successfully spanning into the realms of music, literature and the occult. To celebrate this milestone event, Monolith is offering great deals on their merchandise throughout the year. Check out Monolith Graphics each month for great deals.
Tales From The Dark Tower and The Legend of Darklore Manor are now available for download from Apple iBooks, Barnes & Nobel Nook, Amazon Kindle, and Google Books.
December 2010
Express your style this holiday season with Gothic Holiday Cards by artist Joseph Vargo, and give the gift of music with Nox Arcana's Winter's Knight and Winter's Eve CDs.
October 2010
Happy Halloween!
Here's a few tasty tidbits to satisfy your dark cravings...
Defcon 6 a haunted attraction in Tennesse has designed their entire event around the Zombie Influx album theme.
Gravedigger's Local 16 has posted a brief history and reviews of Blackthorn Asylum and Zombie Influx.
Reviews are in for Theater of Illusion.
September 2010

Welcome to the House of Nightmares
A new CD for the Halloween Season
Release date October 1, 2010.
Joseph Vargo of Nox Arcana teams again with Jeff Hartz of Buzz-Works to produce this new horror soundscape.
Dark things dwell in the old house by the cemetery, lying in wait for anyone who dares to enter. Unearthly sounds echo from the shadows of the abandoned mansion as sinister incantations unleash ancient horrors to haunt the realm of the living. The CD delivers 19 tracks of spine-tingling sound effects and dark cinematic music to create an eerie atmosphere of lurking terror.
July 2010
Welcome to the Theater of Illusion
The legendary stage of magic hidden beyond the threshold of dreams and nightmares. Behold strange and mystifying acts performed by phantom magicians and discover the dark secrets that lie in wait beyond the veil of shadows. Nox Arcana invites you to enter a realm of magic and dark fantasy to immerse yourself in a soundscape of haunting melodies, mystical rhythms and pulse-pounding orchestrations.
A lifelong fan of magic, Nox Arcana founder Joseph Vargo was inspired to create a musical tribute to the mysterious realm of illusion. The setting for this concept album is an old Vaudeville theater, hidden from the outside world, where master magicians gather to display their talents every Halloween night. "Our music has always been very popular with magicians, and several professional illusionists have used various Nox Arcana CDs to enhance their acts. With Theater of Illusion, I wanted to create something specifically for magicians and fans of dark fantasy."
The 21 tracks take the listener on a musical journey throughout the theater and provide a cinematic soundtrack for the eerie acts that play out on stage. The music ranges from haunting melodies on piano, harpsichord, and music box chimes to dramatic orchestrations accented by gothic choirs and pipe organ. Other tracks offer exotic, mystical rhythms and hypnotic narratives to create a spellbinding atmosphere.
Theater of Illusion CDs are available from Nox Arcana, Apple iTunes, Amazon and Spirit Halloween Stores
February 2010
Nox Arcana announces their upcoming album, Theater of Illusion, slated for release this Summer. Enter the mysterious world of dark magic and diabolical illusions as you explore the shadows of an old abandoned theater that harbors restless spirits from the past.